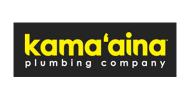 Kama'aina Plumbing and Home Renovations
Address: 940 B Queen Street., Honolulu, HI, 96814
Phone: #808-597-8585
Fax: #808-593-8181
Website: http://www.kamaainaplumbing.com/
Kama'aina Plumbing is a full service Hawaii plumbing company dedicated to serving all of Oahu's plumbing and remodeling needs with honest, prompt, professional and dependable service. If you want it fixed and installed right the first time then call Kama'aina Plumbing!
Like their motto states, there is "No Job Too Large or Too Small." Whether you're in need of a full residential installation or simply need to fix a leak, a certified Kama'aina plumber will be there to help. They also run a responsive 24-hour Emergency Service that covers the entire Island of Oahu.
Kama'aina Plumbing specializes in heat pump installations, solar water heater, residential remodeling, commercial construction and remodeling, bathroom remodeling, tiki torch installation and many other plumbing services.
Kama'aina Plumbing is a locally owned company motivated to provide its Hawaii plumbing customers with superior quality and outstanding customer service. With more than 37 years of experience in the industry, Kama'aina Plumbing is committed to serving Hawaii's commercial and residential plumbing customers. They are proud to retain an impeccable record with the Better Business Bureau of Hawaii.
Kama'aina Plumbing and Renovations LLC.
940 B Queen Street
Honolulu, HI 96814
Office: 808-597-8585
Fax: 808.593.8181