Valentines Cupcake Giveaway
There is no doubt that we appreciate all of our clients, so as a sweet treat on Valentines Day, we give all of our client's delicious handmade cupcakes! Please make sure to RSVP below. (Deadline is 2-12-2018) Don't worry! It's totally okay to give this to your loved ones and take all the credit!
Pickup Date: 2/13/2018
Pickup Time: 4pm to 6pm
Pickup Location:
Team Lally of Keller Williams Honolulu
1001 Kamokila Blvd. #106
Kapolei, HI 96707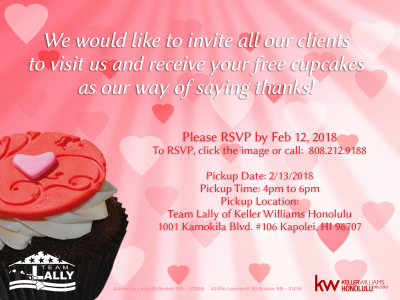 Frequently Asked Questions
When is the deadline to RSVP for the Valentines Cupcake Giveaway?
The deadline to RSVP for your cupcakes is 2 days before Valentines Day, which is 2-12-2018. Please make sure to RSVP, because we will not be ordering any extras.
Where can I park?
You can choose to park on the street or in the underground parking garage. You can find more information on parking on our Kapolei Office page.