var sz_last_addr_req = 0; var smartzip = function () { return { msg: { AddressNotFound: "We are sorry, the address entered was not found.Please check the address and try again.", EmptyAddress: "Please enter an address and try again." }, ws: { addr: { list_select: function (e) { smartzip.ws.err.clear(); e = e || (typeof(event) != 'undefined' ? event : null); var tg = e.originalTarget || e.srcElement; if (tg.nodeName == "LI") { document.getElementById("input-address").value = tg.innerHTML; document.getElementById("property_id").value = tg.id; var p = document.getElementById("sz_addr_suggestions"); smartzip.ws.addr.clear(); } }, clearAll: function () { document.getElementById("input-address").value = ''; smartzip.ws.addr.unselect(); }, unselect: function () { document.getElementById("property_id").value = ''; }, clear: function () { var p = document.getElementById("sz_addr_suggestions"); p.innerHTML = ""; p.style.display = "none"; }, szxhr: function () { smartzip.ws.err.clear(); smartzip.ws.addr.unselect(); var a = document.getElementById("input-address").value; if (a.length < 5) { smartzip.ws.addr.clear(); return; } var d = new Date(); var t = d.getTime(); if ((t - sz_last_addr_req) < 300) { return; } sz_last_addr_req = t; var o = document.createElement("script"); o.type = "text/javascript"; o.setAttribute("src", "https://respondent-api.smartzip-services.com/widgets/address_suggestions.js?api_key=aca4578cbc496881cdc780&term=" + document.getElementById("input-address").value); document.getElementById("ad_widget").appendChild(o); }, }, err: { clear: function () { document.getElementById('address-error').innerHTML = ""; document.getElementById("input-address").style.borderColor = ""; }, address_err: function () { smartzip.ws.addr.clear(); document.getElementById("address-error").innerHTML = smartzip.msg.AddressNotFound; document.getElementById("address-error").style.display = "block"; document.getElementById("input-address").style.borderColor = "#EF2052"; } } }, util: { szxhr: function () { } } }; }(); function sz_addr_change(e) { smartzip.ws.addr.szxhr(); } function gotoStep2() { smartzip.ws.err.clear(); var property_id = document.getElementById('property_id').value; if (property_id.length == 12) { sz_callback(property_id); } else { smartzip.ws.err.address_err(); } } function sz_callback(property_id) { document.getElementById("widget-address-form").method = 'GET'; document.getElementById("widget-address-form").action = "http://info363.smarthomeprice.com/property/show?property_id=" + property_id; document.getElementById("widget-address-form").submit(); smartzip.ws.addr.clearAll(); }
var sz_last_addr_req = 0; var smartzip = function () { return { msg: { AddressNotFound: "We are sorry, the address entered was not found.Please check the address and try again.", EmptyAddress: "Please enter an address and try again." }, ws: { addr: { list_select: function (e) { smartzip.ws.err.clear(); e = e || (typeof(event) != 'undefined' ? event : null); var tg = e.originalTarget || e.srcElement; if (tg.nodeName == "LI") { document.getElementById("input-address").value = tg.innerHTML; document.getElementById("property_id").value = tg.id; var p = document.getElementById("sz_addr_suggestions"); smartzip.ws.addr.clear(); } }, clearAll: function () { document.getElementById("input-address").value = ''; smartzip.ws.addr.unselect(); }, unselect: function () { document.getElementById("property_id").value = ''; }, clear: function () { var p = document.getElementById("sz_addr_suggestions"); p.innerHTML = ""; p.style.display = "none"; }, szxhr: function () { smartzip.ws.err.clear(); smartzip.ws.addr.unselect(); var a = document.getElementById("input-address").value; if (a.length < 5) { smartzip.ws.addr.clear(); return; } var d = new Date(); var t = d.getTime(); if ((t - sz_last_addr_req) < 300) { return; } sz_last_addr_req = t; var o = document.createElement("script"); o.type = "text/javascript"; o.setAttribute("src", "https://respondent-api.smartzip-services.com/widgets/address_suggestions.js?api_key=aca4578cbc496881cdc780&term=" + document.getElementById("input-address").value); document.getElementById("ad_widget").appendChild(o); }, }, err: { clear: function () { document.getElementById('address-error').innerHTML = ""; document.getElementById("input-address").style.borderColor = ""; }, address_err: function () { smartzip.ws.addr.clear(); document.getElementById("address-error").innerHTML = smartzip.msg.AddressNotFound; document.getElementById("address-error").style.display = "block"; document.getElementById("input-address").style.borderColor = "#EF2052"; } } }, util: { szxhr: function () { } } }; }(); function sz_addr_change(e) { smartzip.ws.addr.szxhr(); } function gotoStep2() { smartzip.ws.err.clear(); var property_id = document.getElementById('property_id').value; if (property_id.length == 12) { sz_callback(property_id); } else { smartzip.ws.err.address_err(); } } function sz_callback(property_id) { document.getElementById("widget-address-form").method = 'GET'; document.getElementById("widget-address-form").action = "http://info363.smarthomeprice.com/property/show?property_id=" + property_id; document.getElementById("widget-address-form").submit(); smartzip.ws.addr.clearAll(); }
Real Reviews from Team Lally Clients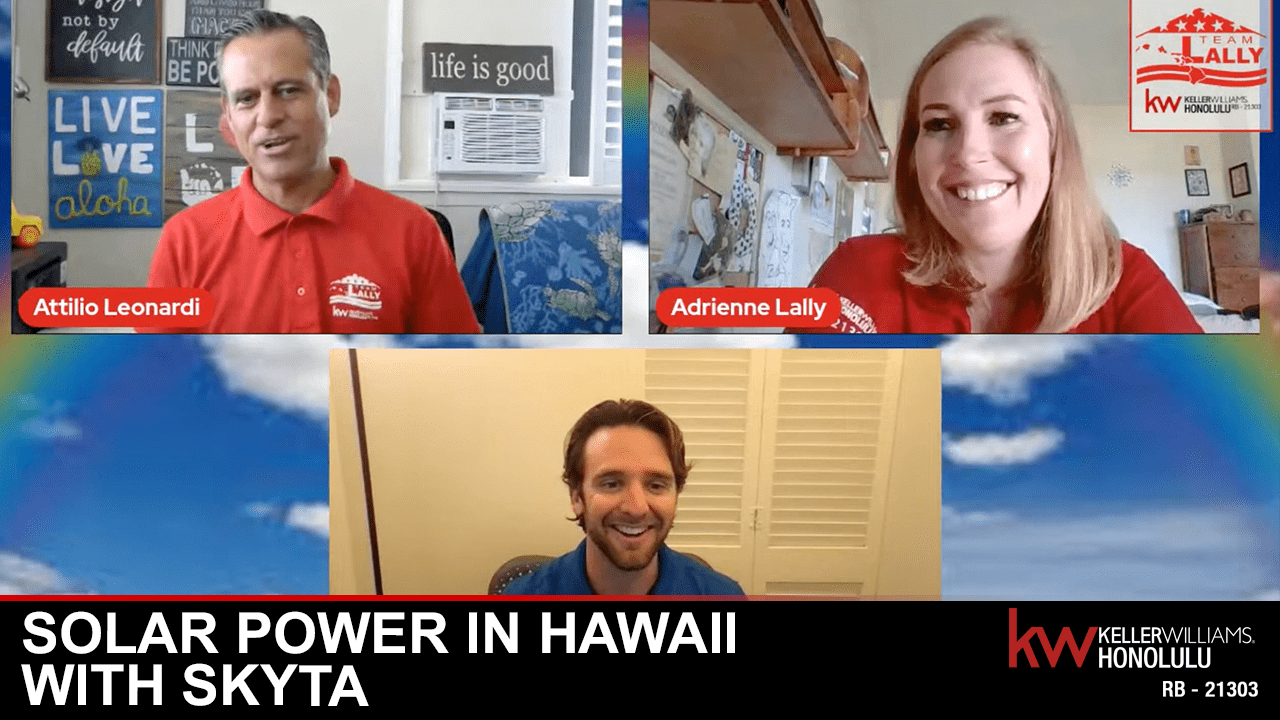 Skyta provides a cost-effective way to power homes using alternative resources such as renewable sunlight.
HECO's Battery Bonus Program will pay qualified solar customers thousands of dollars.
To honor active military, police and first responders, Skyta offers a $500 gift card upon installation.
To hear all about this, watch the teaser for our show.
read more