var sz_last_addr_req = 0; var smartzip = function () { return { msg: { AddressNotFound: "We are sorry, the address entered was not found.Please check the address and try again.", EmptyAddress: "Please enter an address and try again." }, ws: { addr: { list_select: function (e) { smartzip.ws.err.clear(); e = e || (typeof(event) != 'undefined' ? event : null); var tg = e.originalTarget || e.srcElement; if (tg.nodeName == "LI") { document.getElementById("input-address").value = tg.innerHTML; document.getElementById("property_id").value = tg.id; var p = document.getElementById("sz_addr_suggestions"); smartzip.ws.addr.clear(); } }, clearAll: function () { document.getElementById("input-address").value = ''; smartzip.ws.addr.unselect(); }, unselect: function () { document.getElementById("property_id").value = ''; }, clear: function () { var p = document.getElementById("sz_addr_suggestions"); p.innerHTML = ""; p.style.display = "none"; }, szxhr: function () { smartzip.ws.err.clear(); smartzip.ws.addr.unselect(); var a = document.getElementById("input-address").value; if (a.length < 5) { smartzip.ws.addr.clear(); return; } var d = new Date(); var t = d.getTime(); if ((t - sz_last_addr_req) < 300) { return; } sz_last_addr_req = t; var o = document.createElement("script"); o.type = "text/javascript"; o.setAttribute("src", "https://respondent-api.smartzip-services.com/widgets/address_suggestions.js?api_key=aca4578cbc496881cdc780&term=" + document.getElementById("input-address").value); document.getElementById("ad_widget").appendChild(o); }, }, err: { clear: function () { document.getElementById('address-error').innerHTML = ""; document.getElementById("input-address").style.borderColor = ""; }, address_err: function () { smartzip.ws.addr.clear(); document.getElementById("address-error").innerHTML = smartzip.msg.AddressNotFound; document.getElementById("address-error").style.display = "block"; document.getElementById("input-address").style.borderColor = "#EF2052"; } } }, util: { szxhr: function () { } } }; }(); function sz_addr_change(e) { smartzip.ws.addr.szxhr(); } function gotoStep2() { smartzip.ws.err.clear(); var property_id = document.getElementById('property_id').value; if (property_id.length == 12) { sz_callback(property_id); } else { smartzip.ws.err.address_err(); } } function sz_callback(property_id) { document.getElementById("widget-address-form").method = 'GET'; document.getElementById("widget-address-form").action = "http://info363.smarthomeprice.com/property/show?property_id=" + property_id; document.getElementById("widget-address-form").submit(); smartzip.ws.addr.clearAll(); }
var sz_last_addr_req = 0; var smartzip = function () { return { msg: { AddressNotFound: "We are sorry, the address entered was not found.Please check the address and try again.", EmptyAddress: "Please enter an address and try again." }, ws: { addr: { list_select: function (e) { smartzip.ws.err.clear(); e = e || (typeof(event) != 'undefined' ? event : null); var tg = e.originalTarget || e.srcElement; if (tg.nodeName == "LI") { document.getElementById("input-address").value = tg.innerHTML; document.getElementById("property_id").value = tg.id; var p = document.getElementById("sz_addr_suggestions"); smartzip.ws.addr.clear(); } }, clearAll: function () { document.getElementById("input-address").value = ''; smartzip.ws.addr.unselect(); }, unselect: function () { document.getElementById("property_id").value = ''; }, clear: function () { var p = document.getElementById("sz_addr_suggestions"); p.innerHTML = ""; p.style.display = "none"; }, szxhr: function () { smartzip.ws.err.clear(); smartzip.ws.addr.unselect(); var a = document.getElementById("input-address").value; if (a.length < 5) { smartzip.ws.addr.clear(); return; } var d = new Date(); var t = d.getTime(); if ((t - sz_last_addr_req) < 300) { return; } sz_last_addr_req = t; var o = document.createElement("script"); o.type = "text/javascript"; o.setAttribute("src", "https://respondent-api.smartzip-services.com/widgets/address_suggestions.js?api_key=aca4578cbc496881cdc780&term=" + document.getElementById("input-address").value); document.getElementById("ad_widget").appendChild(o); }, }, err: { clear: function () { document.getElementById('address-error').innerHTML = ""; document.getElementById("input-address").style.borderColor = ""; }, address_err: function () { smartzip.ws.addr.clear(); document.getElementById("address-error").innerHTML = smartzip.msg.AddressNotFound; document.getElementById("address-error").style.display = "block"; document.getElementById("input-address").style.borderColor = "#EF2052"; } } }, util: { szxhr: function () { } } }; }(); function sz_addr_change(e) { smartzip.ws.addr.szxhr(); } function gotoStep2() { smartzip.ws.err.clear(); var property_id = document.getElementById('property_id').value; if (property_id.length == 12) { sz_callback(property_id); } else { smartzip.ws.err.address_err(); } } function sz_callback(property_id) { document.getElementById("widget-address-form").method = 'GET'; document.getElementById("widget-address-form").action = "http://info363.smarthomeprice.com/property/show?property_id=" + property_id; document.getElementById("widget-address-form").submit(); smartzip.ws.addr.clearAll(); }
Real Reviews from Team Lally Clients

When it comes to Team Work, Team Lally is the best!. Great communication and customer service. Adrianne and Attilio kept us updated during the entire process of selling our home. The entire helped us through the process and gave us great advice. Thank you Team Lally!!!
Maria L.

I wanted to write you and say thank you so much for all of the work you did to sell my condo. Your team did what two other realty agencies couldn't, and I truly appreciate it. If I'm ever looking for a house in Oahu or know anyone who is, you will be the first people to call.
Jacob A.

Team Lally has helped us make our dreams come true by becoming homeowners. Angelique has been a blessing to us. She helped us every step of the way. She was so patient, even when we weren't. Angelique is so AWESOME!. Thank you for all your help.
Ben & Toni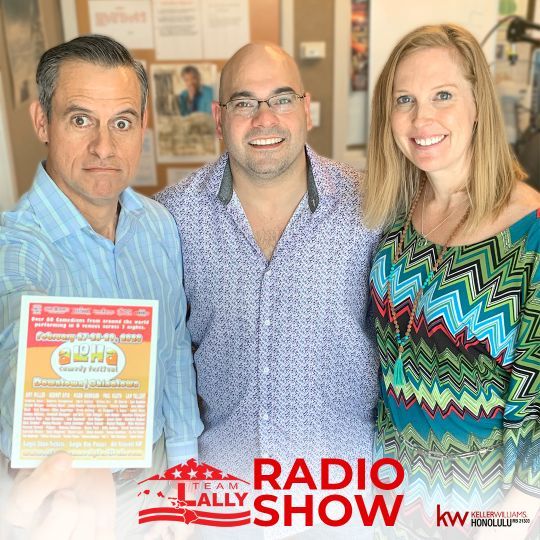 Joining Team Lally in this episode is Christie Dille, the Principal Broker of Real Estate Sales & Rental Management at Vacasa Real Estate. Christie tells us about her life as a traveler and the story of what brought her to Maui. She talks about how she ended up doing business development for Vacasa and the added value that they bring to their customer base. She also highlights what makes Vacasa the largest short term rental manager in the United States.
read more