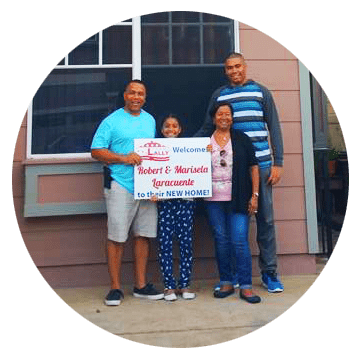 It was excellent, they were so well organized, well connected. The relationship that they had that helped us finance is what actually ended up getting us into our home. Keli'I, who was our Realtor, he is absolutely wonderful. He kept a bright, positive attitude, it was a very challenging deal to close on. It was very, very hard. We were very pleased with everything. We were very thankful actually, very, very thankful. In this particular situation because it was such a challenge, basically everything that they had to do ended up going above and beyond. For example, we were pre-approved and had already done all the paperwork through one broker and the whole thing completely fell through. We had to redo every bit of paperwork, the sellers tried to pull from selling us the home. It was a miracle that we were able to get this and it was because of perseverance, some tears, prayer, at one point I totally freaked out. Keli'I, he was just wonderful. So anything you can imagine having to be done for this particular deal, they had to go above and beyond in every way you can imagine to make this work out." – Donnie & Talitha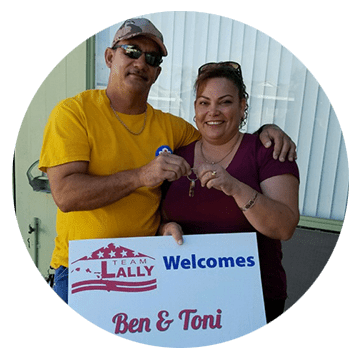 "Team Lally has helped us make our dreams come true by becoming homeowners. Angelique has been a blessing to us. She helped us every step of the way. She was so patient, even when we weren't. Angelique is so AWESOME!. Thank you for all your help."- Ben & Toni
Team Lally has been a blessing to my family. They are truly experts in their profession. They helped with the sale of our house, which was very complicated and difficult. I would like to thank Adrienne Lally & Attilio Leonardi for starting the process, and thanks to Howard Nett for his hard working effort and to Cherie Fikani for helping us with info we needed for that 'fresh start' and to rest of the staff for checking in on us throughout the whole process…we hope that Team Lally can again help us soon with a "new begnning"…words cannot express how thankful we are to Team Lally!
My name is Bryon Tucker. My wife and I sold our home via Short Sale with Remax Team Lally. We are very pleased with the sale!
I have had the pleasure of working with Adrienne & Attilio for the past several years. They work hard and educate themselves. There is nobody in this business that works harder, studies more, and has the experience to sell your home.! And their marketing systems is second to none!!
They make it easy….they handle the banks for you…so you don't have to!
When it comes to selling your home in distress, do what I did! Sell your home with Remax Team Lally! Yay!!!!
I purchased my home as a single woman nearly 10 years ago in what I call a "big girl moment". I improved it over the years, and then decided to move home to the mainland to be closer to my family.
I was referred to Team Lally, and much differently than other agents I was referred to, they called me immediately, providing a full scope of their services, which is impressive.
I liked the fact that they had me meet them in their office, outside the potentially emotional environment of my home. This is business, after all!
My home was first shown on June 10 and closed at a handsome price on August 30. Wow. These guys communicate regularly by phone, provide excellent service via email and while closing the sale I experienced the best possible service.
Were I to contemplate moving back to Hawaii, Team Lally would be my first call!
When it comes to Team Work, Team Lally is the best!. Great communication and customer service. Adrianne and Attilio kept us updated during the entire process of selling our home. The entire helped us through the process and gave us great advice. Thank you Team Lally!!!
Adrienne Lally and Attilio Leonardi of Team Lally are great! They take the time to get to know their clients needs, making the buying/selling process that much easier. I would definately refer my family, friends and clients to Team Lally and so should you!
Atillio and his team are true professionals at what they do. They helped me to short sell my home and avoid foreclosure. Prior to working with Atillio, I had several other Real estate companies try to sell my home with no success and average customer service at best. A church friend referred me to Atillio and that recommendation was my saving grace. Team Lallly really set themselves apart from the rest. They not only sold my home but they helped educate me on the process and provided excellent customer service every step of the way! I highly recommend Team Lally for all your real estate needs!
I really liked the way they always kept us informed with what was going on. I think the key to their success is the fact that they are able to keep their clients informed. I really appreciated that since the last time I used a realtor they couldn't keep me updated. I was recommended to them by a friend and I will definitely recommend them too
The Agents at Team Lally are experts in their field. Whether you're looking to sell your home or buy one, these guys have a great team to take care of you throughout the entire transaction.
Even if you looking just to get more information – I'd suggest to give them a ring and they can point you in the right direction.
In conclusion, Team Lally's professionalism, integrity, sense of urgency, and attentiveness to my best interests, far exceeded my expectations and gave me a new lease on life. Team Lally truly exemplifies the team concept, in the same fashion as the New York Yankees or Chicago Bulls teams of the 1990's. EVERY MEMBER IS AN ALL- STAR and the best at what they do. For this, they have my undying gratitude.
I worked with team Lally on my first time buying a home in Ewa Beach. As it was my first time buying I did not know much and the staff at team lally were extremely patient and helpful. I wanted to see a lot of places and changed my mind a few times, but the realtor I worked with stuck around and always made my wishes come true. When I actually started working towards getting the place I ended up buying, my relator was very attentive and walked me through every step. I will definitely use this guys for the next time I buy a property.
Team Lally really has your best interest at heart. They actually listened to us and cared about our needs. Team Lally really understood what was going on with our military status and helped us make the right decision. Work with Team Lally before anyone else!
I purchased my first home with Team Lally. Cathy was an absolutely fantastic agent and I would recommend her to anyone! We had very specific needs for our home, and they helped us meet every single one of them. We also were in the need of moving in within 45 days of moving to the island. Team Lally made that happen! Team Lally is fantastic. Buy a house!
My husband and I have been looking for the perfect HOME for several years since we sold our Townhouse back in 2007. We met Roberta by luck of the draw. Roberta showed us several homes and we bid on them with no luck. She asked us after several weeks to take a look at a house that was not in a area we wanted. It was love at first sight!!! My husband and I moved in several weeks later, THANKS TO ROBERTA AND TEAM LALLY and MANN MORTGAGE! If I had to do it all over again, I would in a heartbeat. No words can explain the amount of thanks we have for Roberta and Team Lally and all parties involved in our search and victory in finding OUR HOME.
Team Lally brought us back our peace of mind!! While I was serving in the military in Hawaii, we purchased a home on Oahu in 2007 thinking we could sell it easily upon my separation in 2009. Unfortunately we got caught up the housing crisis and our home was suddenly worth less than half of the amount we purchased it for!!!! After 5 years of trying to work with several banks, team Lally came in, tirelessly worked with our bank, and sold it for us. We are so thankful for their professionalism and unwavering support during this stressful time! We would recommend them without a doubt!
I wanted to write you and say thank you so much for all of the work you did to sell my condo. Your team did what two other realty agencies couldn't, and I truly appreciate it. If I'm ever looking for a house in Oahu or know anyone who is, you will be the first people to call.
Team Lally are great. I have not had the chance to buy a house yet but I know that whenever we walk in the office we are considered not only a valued customer but as family. I am lucky to have them on my side.
When I first decided to sell the house, I didn't have any idea what it was worth or what the asking price should be. Adrienne and Attilio walked through the house and set the price, which was considerably higher that what I imagined. They were very professional and did a great job with the online presence of the home. Chris actually gave us suggestions on how to make the house look better and did a video walk through of the home. It was like you were walking through the house room by room and through the yard. It was very impressive and one of the selling points!
I couldn't ask for anything more! Some other realtors recommended them to me so I went to see them. After speaking with them, I was very comfortable. Team Lally is so professional and more thorough. Their services are excellent. They definitely keep you updated and I was never lost as far as knowing what was going on. They are really great with keeping in touch every step of the way. I've already recommended them and will continue to do so.
As a family of 6 from Colorado, moving to an island was overwhelming.. We used Team Lally. Our agent calmed our fears,we looked all over the island, but she thought we might like the Leeward side, she found us a brand new home in our price range and even found a rental while our house was being completed. Our agent also gave us some of her personal contacts of people she thought might help in our transition.
Team Lally is a great team! we had to purchase a our first home on a time crunch as my coast guardsman hubby was about to go under way in 4 months! guess what we got the house basically in 2 months!! we had a lot of questions! and she was so kind a patient and re assured us that this was what she loves to do! she educated us so much! for a family of 5 we were scared that the market was slim for what we wanted but she got it within in the first 5 houses,paperwork signed,paperwork explained,va loan explained and keys to the house along with phone calls of how we liked the house, if we had any trouble with any thing. we referred so many friends and family to them and they have rewarded us and thanked us and they have great client appreciate!! number one team to work with they become family!!!
"We had outstanding results. Our whole experience was smooth. It was a smooth transition."
Team Lally definitely earned our business. They took pictures of our house and gave us a detailed pictorial guide of what we could do to get our house ready for the market. Everything they recommended was doable, concrete, and incredibly helpful. They are consistent, very professional and we'd highly recommend them!
I walked away from my property three years ago and assumed that it would get foreclosed upon or just disappear….Three years later I was contacted by a tenant that was being rented the condo from a company that was operating illegally and claimed to have ownership of it….I contacted Team Lally and they were able to navigate these very difficult waters: me not having paid my mortgage for three years, a company claiming ownership, the condo association not happy because they were not paid for three years…Team Lally worked through all of this to complete a short sale of the property and I paid virtually nothing…I worked with other real estate companies in the past and Team Lally blows them away, I would highly recommend them for all your real estate needs
Team Lally helped us purchase our first house. Adrienne and her team has gone and continues to go above and beyond to help us out. When first searching for houses, she took us to many different places, quickly figured out what we were looking for, and then tailored our search to properties that matched our preferences. Adrienne was always honest with us, and she was truly motivated to help us find the perfect home for us. Her experience helped us to find the right house, get a good price, and close quickly.
Adrienne and her team are always available by phone or email whenever we need.
I don't think buying the right home could have been any easier, and it's because of Team Lally. I honestly think I could not have found a better realtor . I would recommend Team Lally to anyone I ever meet who is looking to buy or sell real estate.
We are from Canada and worked with Team Lally to buy a short sale property. It was a very long process and overoll it was not easy property to deal with, but they sorted out all issues and provided a very good service with happy ending for us.
Team Lally has a lot of experience in the real estate market. They took videos that they posted online to help show off my home. They're easy to locate and I had a really good experience with them. Work with Team Lally!
Team Lally is EXCELLENT! They used every avenue to promote our property, from the internet like Trulia.com to mailings to magazines. They took a disappointing situation and turned it to an ideal situation, especially considering all the circumstances. Thank you Team Lally!
Team Lally is really quite exceptional. Each time we have been to the office we have had a personable and helpful experience. The connections they have with other businesses are also extraordinary. Team Lally doesn't settle for less and they will work hard on your behalf.
They really knew what they were doing. It was a speedy process and overall a great experience! I would definitely recommend them to a friend.
We knew when we were going to move to Hawaii it was the perfect opportunity to purchase our first home. We gave them our budget and a list of what we needed in a home. It was that easy, they got to work and we had exactly what we wanted in no time. They communicated immediately with us and answered all of our concerns. Our home purchase was seamless thanks to the team. We continue to have experts that we can call for advice any time. We couldn't be happier.
Thank you for your assistance with the purchase of our new country/oceanfront home. We really appreciate how much time, effort, and importance you placed on our transaction. Your expertise and concern for your clients seems to be your highest priority in taking care of your customers. In addition, you shine above the rest. Through several transactions, you can tell you enjoy your work and have learned in life that giving is a very rewarding experience. Wow, what can we say Adrienne but that you are the greatest and we were impressed with you as a Realtor and as a person. You exceeded our expectations and we hope to refer other people to you so that they can experience the buying of a home through a Realtor that goes beyond what has to been done for a customer.
Working with Team Lally was truly a pleasure. Team Lally took charge of the entire process and helped foster a "win-win" transaction for all involved. I can't say enough about the easy-going but professional demeanor and attention to detail they you and your team provide through the process for us. Team Lally is a wealth of information on the area and put us in contact with the right people to make the purchase of our property what any purchase should be, a fun, exciting experience. Adrienne and Team Lally sweats the small stuff so you don't have to worry about it. We will continue to return to what Matt and I call "Our Realtor" for our future real estate needs. Thanks for all your hard work, Matt and Vicki Nelson
We cannot express how satisfied we were with Team Lally when we needed to sell our townhouse. We had talked to a few realtors and were told we were "upside down" with our home and we wouldn't be able to get what we were asking. We kept hearing their commercials on the radio and that was telling us call them! We did and it was the BEST decision ever! They were a Godsend for the situation we were in. We highly recommend Team Lally when selling your home!
Team Lally sold my house as a short sale and did so timely and professionally. The entire team worked together like a machine. There were no miscommunications, no dropping the ball, and they were always available when I had a question or needed to talk to someone. I feel that I brought a tough situation to the table with the conditions concerning my property. Team Lally treated me with respect and kept all communication through and honest. I appreciated that as it was an emotional stressful sale for me. I will always be grateful for the way they handled my property and helped me through the process. I would recommend Team Lally in a heartbeat!
We worked with Team Lally during the purchase of our new house, and it was great. They were very professional, knowledgeable, responsive and fun to work with. We found a great house that we love and moved in ahead of the estimated closing date. Best of all, we paid less than the asking price, and they recommended offer was right on point with the VA appraisal. Overall, it was a great experience, and I would recommend Team Lally to anyone looking for a house.
We were discouraged by other realtors with short sales. Team Lally encouraged us and held our hand every step of the way. We had an awesome experience, and would definitely do business with Team Lally again.
Attilio, Adrienne and the rest of their team were supremely friendly and accessible. They made a very stressful situation bearable and helped put me at ease. Their finance man, Howard, returned all my calls promptly, day or night, and really made great efforts to answer all my questions. Team Lally is AWESOME!
I had excellent results both times I worked with Team Lally. All of my questions were answered and there was never a day where I couldn't contact them. I only had about 30 days before we had to leave and they got it done before I left. It was the best service I've ever encountered in the real estate world.
Team Lally helped me find my wonderful home. I was looking for my first home and thought I was going to have a difficult time. I picture myself wading through stacks of paperwork and just missing out on great properties. Thank you Team Lally for making the search and purchase a fun and easy process. 🙂 Go Lally!! Go Lally!!!
Adrienne Lally and the team are absolutely wonderful. Adrienne exudes excellence and knowledge in the real estate field. Customer service and great communication skills are just a few of the qualities that Adrienne and the team take pride in. She looks out for the best interest of her clients and makes sure that the buying and selling process is easy and pain free! I would strongly recommend Adrienne and the team for the purchase or sale of your Hawaii home or condo.
My wife and I had dealt with various Realtors over the course of the sale of our home and then again with the purchase of our new home. We did not quite get the service we were looking for until we met up with Adrienne, Attilio and Team Lally. From the time we first walked in to the office we were greeted with that signature Team Lally experience and this made us feel we were in good hands. We had frequent contact with the Team and knew what to realistically expect as far as sales, time line and pricing. Team Lally made a stressful time much easier for our family and we really appreciate all their efforts.
Team Lally is a world-class service provider. From their first visit to our home to the last open house and closing, every person gave their total focus to obtaining prospective buyers and valid offers. The walk through video of our home was a masterpiece which allowed potential buyers to walk through the home as if they were actually there. Team Lally went the extra mile to ensure our home sold.
HANDS DOWN! Team Lally is the best in Hawaii! My experience with Team Lally was amazing! They've went beyond my expectations for any realtor. My first visit with Team Lally, they gave me "The Red Carpet Treatment", they immediately treated me like family and was very supportive every minute I was with them. When Team Lally list your home, they'll start with being super flexible with your schedule, they'll recommend on what to do on getting the most out of your home. They then will install their awesome sign in front of your home! After, they'll have their professional photographer come by to take pictures, who is SUPER NICE and he understands everything you're going through. Not only does he take pictures, but he takes a VIRTUAL TOUR of your HOME, a luxury feature NO OTHER REALTOR I'VE SEEN PROVIDE!!! They will also keep you in loop by updating you every week once your homes on the market! Like I said Team Lally is the best in Hawaii! I highly recommend all my friends to Team Lally! Thank you!