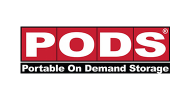 PODS Hawaii is a preferred vendor of Team Lally!
Why do we always recommend PODS?
Convenience
PODS are conveniently dropped off at your doorstep. The PODS team will bring your container to your home at your preferred date and time.
Options
A variety of PODS sizes available. From smaller 7 ft. containers up to 16 ft. containers to pack your entire home. Choose the size that is perfect for you. 
Near & Far
PODS is capable of handling both local and long-distance moves. Steel-framed & weather-resistant containers that will keep your home goods safe and secure. 
Redeem this $75 OFF Coupon on your next POD. 
PODS Hawaii
Address: 799 Kahelu Ave, Suite A, Mililani, HI 96789, Kapolei, HI, 96707
Phone: #808-682-7637
Website: www.pods.com
PODS was first established in 1998, PODS' goal is to make the moving and the storage process more convenient and less stressful through their innovative solutions of delivering their level container and providing the customer all the time they need to load and unload their container. Plus they believe you should be able to move or store your things without worrying about getting them back damaged. So whether you are moving or storing personal belongings or business equipment, they have the right answer for you.
PODS Hawaii offers all Team Lally clients a discount on their PODS. Save $75 off your next pod. 
How Much Is Your Home Worth?
How would you like to have the #1 real estate team in Hawaii sell your home? With unmatched marketing and negotiation skills and a team that's got your back, you can expect nothing but the best. Get the most accurate home valuation instantly!
var sz_last_addr_req = 0; var smartzip = function () { return { msg: { AddressNotFound: "We are sorry, the address entered was not found.Please check the address and try again.", EmptyAddress: "Please enter an address and try again." }, ws: { addr: { list_select: function (e) { smartzip.ws.err.clear(); e = e || (typeof(event) != 'undefined' ? event : null); var tg = e.originalTarget || e.srcElement; if (tg.nodeName == "LI") { document.getElementById("input-address").value = tg.innerHTML; document.getElementById("property_id").value = tg.id; var p = document.getElementById("sz_addr_suggestions"); smartzip.ws.addr.clear(); } }, clearAll: function () { document.getElementById("input-address").value = ''; smartzip.ws.addr.unselect(); }, unselect: function () { document.getElementById("property_id").value = ''; }, clear: function () { var p = document.getElementById("sz_addr_suggestions"); p.innerHTML = ""; p.style.display = "none"; }, szxhr: function () { smartzip.ws.err.clear(); smartzip.ws.addr.unselect(); var a = document.getElementById("input-address").value; if (a.length < 5) { smartzip.ws.addr.clear(); return; } var d = new Date(); var t = d.getTime(); if ((t - sz_last_addr_req) < 300) { return; } sz_last_addr_req = t; var o = document.createElement("script"); o.type = "text/javascript"; o.setAttribute("src", "https://respondent-api.smartzip-services.com/widgets/address_suggestions.js?api_key=aca4578cbc496881cdc780&term=" + document.getElementById("input-address").value); document.getElementById("ad_widget").appendChild(o); }, }, err: { clear: function () { document.getElementById('address-error').innerHTML = ""; document.getElementById("input-address").style.borderColor = ""; }, address_err: function () { smartzip.ws.addr.clear(); document.getElementById("address-error").innerHTML = smartzip.msg.AddressNotFound; document.getElementById("address-error").style.display = "block"; document.getElementById("input-address").style.borderColor = "#EF2052"; } } }, util: { szxhr: function () { } } }; }(); function sz_addr_change(e) { smartzip.ws.addr.szxhr(); } function gotoStep2() { smartzip.ws.err.clear(); var property_id = document.getElementById('property_id').value; if (property_id.length == 12) { sz_callback(property_id); } else { smartzip.ws.err.address_err(); } } function sz_callback(property_id) { document.getElementById("widget-address-form").method = 'GET'; document.getElementById("widget-address-form").action = "http://info363.smarthomeprice.com/property/show?property_id=" + property_id; document.getElementById("widget-address-form").submit(); smartzip.ws.addr.clearAll(); }
var sz_last_addr_req = 0; var smartzip = function () { return { msg: { AddressNotFound: "We are sorry, the address entered was not found.Please check the address and try again.", EmptyAddress: "Please enter an address and try again." }, ws: { addr: { list_select: function (e) { smartzip.ws.err.clear(); e = e || (typeof(event) != 'undefined' ? event : null); var tg = e.originalTarget || e.srcElement; if (tg.nodeName == "LI") { document.getElementById("input-address").value = tg.innerHTML; document.getElementById("property_id").value = tg.id; var p = document.getElementById("sz_addr_suggestions"); smartzip.ws.addr.clear(); } }, clearAll: function () { document.getElementById("input-address").value = ''; smartzip.ws.addr.unselect(); }, unselect: function () { document.getElementById("property_id").value = ''; }, clear: function () { var p = document.getElementById("sz_addr_suggestions"); p.innerHTML = ""; p.style.display = "none"; }, szxhr: function () { smartzip.ws.err.clear(); smartzip.ws.addr.unselect(); var a = document.getElementById("input-address").value; if (a.length < 5) { smartzip.ws.addr.clear(); return; } var d = new Date(); var t = d.getTime(); if ((t - sz_last_addr_req) < 300) { return; } sz_last_addr_req = t; var o = document.createElement("script"); o.type = "text/javascript"; o.setAttribute("src", "https://respondent-api.smartzip-services.com/widgets/address_suggestions.js?api_key=aca4578cbc496881cdc780&term=" + document.getElementById("input-address").value); document.getElementById("ad_widget").appendChild(o); }, }, err: { clear: function () { document.getElementById('address-error').innerHTML = ""; document.getElementById("input-address").style.borderColor = ""; }, address_err: function () { smartzip.ws.addr.clear(); document.getElementById("address-error").innerHTML = smartzip.msg.AddressNotFound; document.getElementById("address-error").style.display = "block"; document.getElementById("input-address").style.borderColor = "#EF2052"; } } }, util: { szxhr: function () { } } }; }(); function sz_addr_change(e) { smartzip.ws.addr.szxhr(); } function gotoStep2() { smartzip.ws.err.clear(); var property_id = document.getElementById('property_id').value; if (property_id.length == 12) { sz_callback(property_id); } else { smartzip.ws.err.address_err(); } } function sz_callback(property_id) { document.getElementById("widget-address-form").method = 'GET'; document.getElementById("widget-address-form").action = "http://info363.smarthomeprice.com/property/show?property_id=" + property_id; document.getElementById("widget-address-form").submit(); smartzip.ws.addr.clearAll(); }