Know more about what CCIM (Certified Commercial Investment Member) is from Anthony Provenzano and find out how he achieved this prestigious title. Team Lally was honored to have Anthony in this episode who shared the key steps, and what it takes to move ahead as a CCIM. We would recommend you take note of the events and projects Anthony shared and encouraged listeners to participate in. Enhance your knowledge in Commercial Real Estate and get inspired to follow the same path Anthony took. As Attilio and Adrienne shared follow ABC, Always Be Curious!  
As part of our weekly show we have the PM tip of the week, VA loan short sale tip, Designer tip of the week, Open Houses from our Buyer agents and Coming soons from our Seller agents.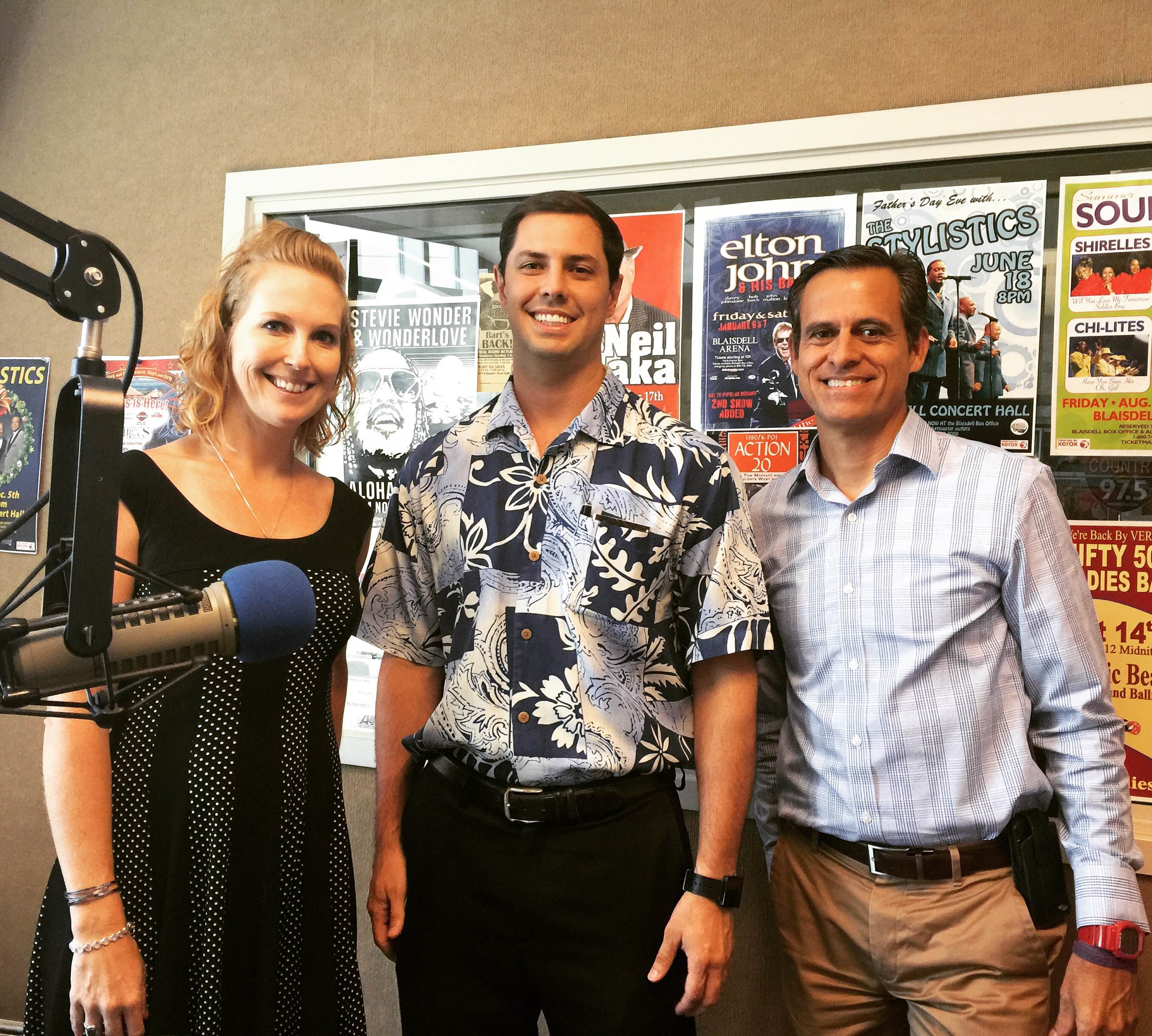 Who is Anthony Provenzano?
Anthony Provenzano holds the designation of CCIM (Certified Commercial Investment Member) which he acquired in 2014. It is considered as the PHD of Commercial Real Estate. After attaining this designation Anthony worked his way up becoming the Vice President of CCIM Hawaii chapter and is now the incoming President. He has also been part of Sofos Realty since 2010 and was always a consistent top performer. He is recognized as a CoStar power broker in 2104 and 2015. During the airing of Team Lally's episode with Anthony he stated that CCIM Hawaii will give away one scholarship to one of Team Lally radio show viewers/listeners and that they will also give one to a Keller Williams employee if they take their upcoming CCIM 101 class in March 2017, They will each receive a $500 credit after completing the class. This amazing offer coincides with his goal to educate people more about Commercial Real Estate and motivate people to become CCIMs.You can visit the CCIM website for more details on courses, upcoming events and schedules. 
http://ccimhawaii.org/
Read Word For Word Of Our Hawaii Real Estate Show Below:
| | |
| --- | --- |
| Announcer: | It's time to enter the world of real estate in Oahu, with Hawaii's only true real estate radio show, the "Team Lally Real Estate Show". Grab a pen and get ready to take notes. For the next full hour, Hawaii's premier real estate leader, Adrienne Lally and Attilio Leonardi, will bring you the latest in real estate news, and real world strategies on how they can guarantee to sell your home at a price and deadline you agree to–or they'll buy it! Now, here are your hosts, Adrienne and Attilio!      |
| Adrienne: | Welcome to the "Team Lally Real Estate Show", home of the guaranteed sold program, or we'll buy it. If you have any questions, just give us a call at 799-9796, or check us out on the web at teamlally dot com (teamlally.com). |
| Attilio: | Well hey, everybody. This is Attilio. I just wanted to tell you–what was I doing? You know what I was doing? I was on Maui and then we made a screeching U-turn because we saw the sign. |
| Adrienne: | What sign? |
| Attilio: | The Krispy Kreme donuts. You know, that lights up and tells you that the donuts are fresh? Anyway, we're driving like bats out of heck, trying to get those fresh donuts so we could bring them back to Oahu. This lady cuts us off. And then she comes up to the window and starts asking us a bunch of tax and legal questions. And I said, "Those are great questions, but I highly recommend you seek the appropriate licensed professional." And then I said, "But Mom, you want some donuts too?" Anyway, if you hear anything on the show, sounds like legal advice, run that past an attorney. Anything that sounds like tax advice, go see a CPA. |
| Adrienne: | Did you share the donuts with your mom? |
| Attilio: | No. |
| Adrienne: | Why not? |
| Attilio: | I shared them with my kids. |
| Adrienne: | Oh, okay, yeah. My kids had Krispy Kreme donuts for breakfast this morning too. |
| Attilio: | And we shared them with our staff. They love it when we go visit Maui. |
| Adrienne: | They do. |
| Attilio: | Yep. |
| Adrienne: | They left a little note saying, "You rock." |
| Attilio: | Mmhmm. |
| Adrienne: | Alright, so today's quote of the day. |
| Attilio: | Yeah. |
| Adrienne: | Courtesy of Duke Kimhan with Hawaii Pacific Property Management. "A man sooner or later discovers that he is the master gardener of his soul, the director of his life." That's from James Allen. |
| Attilio: | Oh, James Allen. |
| Adrienne: | Yes. |
| Attilio: | I have no idea who that is. |
| Adrienne: | (Chuckles) Okay, next one's from Joseph Campbell. Do you know who that is? |
| Attilio: | Joseph Campbell. |
| Adrienne: | "The cave you fear to enter holds the treasure that you seek." I bet you they're talking about Pokemon. |
| Attilio: | Yeah. Could be. "Pikachu!" |
| Adrienne: | Alright, the last one's from Johann von Goethe. "Difficulties increase the nearer we approach our goal." |
| Attilio: | Oh yeah? Good stuff. |
| Adrienne: | Yes. |
| Attilio: | So when somebody says "Pikachu", you know what you're supposed to say? |
| Adrienne: | What? |
| Attilio: | "God bless you." |
| Adrienne: | (Chuckles) How many Pikachus do you have? |
| Attilio: | You know, I transferred them. I know you have three, and you like to throw that in my face. |
| Adrienne: | I have four. (Laughter) |
| Attilio: | Alright, so we got the quotes out of the way. |
| Adrienne: | Yes. |
| Attilio: | This is the time when we start talking about our tips of the week. Are there any tips of the week that you would like to cover? While we're waiting for one of those to come to us? |
| Adrienne: | Well, yes. I know that Duke's going to be calling in here real soon with his property management tip of the week. |
| Attilio: | Okay. |
| Adrienne: | You know what, let's talk about our VA tip of the week. More specifically, what's a VA short sale? Because this kind of happened as we were riding in through the radio show today.   |
| Attilio: | Yeah, you know what, we're going to show you real-life information here. If you are someone out there, you know somebody that's facing foreclosure, you're upside down on your property… And what do we mean by that, "upside down on your property"? |
| Adrienne: | Or even if you're not upside down. You're just falling behind. |
| Attilio: | On payments. |
| Adrienne: | Yeah. And on your maintenance fees. You're distressed. |
| Attilio: | Here's the couple of things that you need to know, and we'll narrow it down to specifically if you've got a VA loan. The VA, the Veterans Administration, will guarantee the deficient amount. Let's say you owe up to… |
| Adrienne: | Up to 25%. |
| Attilio: | Twenty-five percent of the loan balance. So if you owe $400,000, they're going to cover how much? |
| Adrienne: | $100,000 deficiency. |
| Attilio: | So that means you can sell that property if it's–by the way, the value of something is what somebody's willing to pay for it. So if you sell the property for $300,000, but you owe $400,000, the VA's going to cover how much? |
| Adrienne: | $100,000. All of it. |
| Attilio: | Now the other thing… |
| Adrienne: | So they're going to reimburse the bank, right? |
| Attilio: | They're going to make the loan whole. |
| Adrienne: | So if it's more than $100,000, then the bank is going to take that loss. |
| Attilio: | They're going to write it off. |
| Adrienne: | Yes. |
| Attilio: | So, what does that mean for the veteran as far as that benefit down the road? |
| Adrienne: | So, our understanding is that you will get your benefit back. However, you have that deficiency, that $100,000, and you've got to work that out with the VA as far as getting your entitlement back. |
| Attilio: | You don't have to pay the VA, the Veterans Administration, back. However, if you do want to use your VA benefit, then that's when you have to fork over the dough. So you don't have to pay them back, but if you do want to use your benefit in the future, you're going to have to… |
| Adrienne: | To work that out with them. |
| Attilio: | Yeah. Repay that. Okay? |
| Adrienne: | But that's one of the great benefits of the VA loan. Should you get in trouble, they're there to cover you. |
| Attilio: | Yeah. How many short sales do you think we've completed? |
| Adrienne: | I think that we're definitely over that 350… somewhere between 350 and 400. |
| Attilio: | Well, let's say if anybody fact-checked us, we would know that we've completed over 300 of those. So listen up folks–and this is true of any property in the state of Hawaii. If you know anybody that's upside down, distressed, maybe they're just concerned and their hair is falling out, and they need to have this feeling or a sense of relief–call and talk to us. We have solutions. |
| Adrienne: | Exactly. Lots of solutions. |
| Attilio: | If you're an agent, and you're dealing with that situation, and you don't want to handle it, we'll pay you a referral fee. |
| Adrienne: | It does take a lot of work, and patience, and follow-up, and we have a full team to help with that situation. |
| Attilio: | So here's a worse-case scenario. You're going through a nasty divorce. Sellers are screaming and yelling at each other. You've got an auction date that's three weeks away. You're $200,000 upside down on the property, and there are notices all over the front door. We can help. |
| Adrienne: | We can help. |
| Attilio: | We can help. |
| Adrienne: | So, speaking of helping, we have Duke Kimhan on the line from Hawaii Pacific Property Management, with his PM tip. |
| Attilio: | Hey Duke, are you there? |
| Duke: | Hi, good morning! |
| Attilio: | Good morning! |
| Adrienne: | Good morning! |
| Attilio: | Give us your PM tip of the week. |
| Duke: | The tip of the week is, when you buy renter's insurance as an investor, please check with your insurance carrier if you have a loss of rent coverage in there. |
| Attilio: | Loss of rent? |
| Duke: | So if something traumatic were to happen, like a big flood or a fire, and we have to move your tenants out, do you have loss of rent? I have a home sitting vacant right now for almost two months. And they have loss of rent through their insurance carrier. So they asked me what the house would rent for, and they are now getting paid rent while no one's in their house. |
| Adrienne: | So Duke, on this renter's insurance, have you seen policies where they don't include the loss of rent rider as part of the policy? |
| Duke: | Yes. |
| Attilio: | So it's insurance that the renter takes out, not the owner of the property? |
| Adrienne: | No, the owner as an investor has the rental rider as on the property. |
| Attilio: | Oh okay, on their insurance. Got it. |
| Duke: | I think it's an added cost, but it's not much more to have something happen to your house, and while we're repairing it, you had to move your tenants out, and you have loss of rent. |
| Adrienne: | It's well worth it, it sounds like. |
| Duke: | It is. And sometimes, in some cases, we have to reimburse the tenants who move out. |
| Adrienne: | So for example, if the kitchen had a fire and they couldn't cook in there, they had to go live somewhere else while that's being renovated. |
| Duke: | Well, what happened in that case was, we had to give half rent credit to the tenant because they couldn't use a big part of their home. And it took six weeks, so almost two months, and the tenant got $500 off their rent. So that lost rent was reimbursed to the owner of the house through their lost rent's coverage of their insurance policy. |
| Attilio: | You know, as my friend from Jersey would say, (imitates Jersey accent) "That's really nice…" that that was taken care of. |
| Adrienne: | (Laughter) |
| Adrienne: | So the moral of the story is, just double-check your insurance policy. Make sure you guys have that coverage, because anything could happen. Things happen all the time. |
| Duke: | More coverage is always better coverage, yes. And you know, we dodged so many storms–two this last weekend. So if anything were to happen, with your coverage on your house… Your tenants would be the first to move out if there were a big flood. Or, let's say a tree fell on your roof and it started to rain in their living room–oh boy. |
| Attilio: | So well before they stock up on water and toilet paper, they should give their insurance company a call. |
| Duke: | Absolutely. Absolutely. |
| Adrienne: | And just review the policy, make sure it's the best one that's in place for them. |
| Attilio: | Yeah. |
| Adrienne: | That's a great tip. |
| Attilio: | Two things. We always talk about the rent guarantee. I want you to talk about that rent guarantee that you have. After that, can you tell us about that eviction guarantee? But tell us about the rent guarantee. |
| Duke: | We put it in writing in our property management agreement that if we don't rent your home in 30 days or less, at an agreed price, then we pay that amount of rent. |
| Adrienne: | Wow. |
| Duke: | Very simple. |
| Attilio: | I always tell people, when you have that kind of guarantee, you're either crazy or you're good. And they should call you and find out which one it is. I'm going to go with good. |
| Duke: | I tell the owners, if I didn't think I could rent your home, I wouldn't even be taking your property on. So, rent guarantee will let you know that I'm the only property manager in the business in Honolulu that offers a rent guarantee. |
| Adrienne: | Now, you said that he was either crazy or good. |
| Duke: | I think crazy. |
| Adrienne: | I think he's crazy good. |
| Attilio: | Now what about the eviction guarantee? What's that all about? |
| Duke: | Well the warranty's for tenants that have a 620 credit score. We can verify with their last landlord on their ability to pay rent and keep the house in good shape. If anything should happen with the tenant, then we will pay for or help pay for the eviction. |
| Attilio: | Gotcha. And coordinate it and all that stuff. |
| Adrienne: | So you guys have a very thorough process in making sure that you have the right tenant in place so that there's no issues with that. |
| Attilio: | It's never going to happen, but in case it does, you're standing behind it. |
| Duke: | The owners get the final say. And when we get multiple applications, we send everything to the owner and we let them decide who they think is the best qualified, based on children, pets, occupation. Whatever they have listed on their description of who they are, then we tell them the whole story. |
| Attilio: | Good. You guys advise, then they decide. |
| Adrienne: | That's right. |
| Attilio: | Nice. Alright, Duke. |
| Adrienne: | Awesome tips. Thanks, Duke. |
| Duke: | Beautiful day out today. |
| Attilio: | Yes. |
| Duke: | Talk to you next week. |
| Attilio: | Alright. Check him out on the internet at… |
| Adrienne: | H-I-PACIFIC-P-M dot com (hipacificpm.com). |
| Attilio: | Alright. |
| Adrienne: | So we have our designer tip of the week. |
| Attilio: | Oh, Janyce! |
| Adrienne: | From Dream House Drafting. Hi, Janyce. |
| Janyce: | Hi, Adrienne. |
| Adrienne: | Thank you for calling in with your tip of the week. |
| Attilio: | What pearl of wisdom would you like to share with our listeners today? |
| Janyce: | I'd just like to remind everybody that the mayor, back in July, signed a bill which now waives building permit, plan review, grading, and waste water fees related to ADU. So this is a great time. If someone is thinking about adding a second dwelling to their property legally, which they can rent out so long as they remain as an owner on the lot–this is a great time to do it. Because those waste water fees were typically in the neighborhood of $6,000, on top of the building permit and other fees that apply. |
| Adrienne: | So give us a scenario. How much would this have cost without this waiver? You already said $6,000, but the building permits and everything… |
| Janyce: | Well the building permit fee is going to be a function of the size of the ADU, so you can figure at about 800 square feet… Let's see, we can do some real populations. I wasn't expecting you to ask me that. |
| Adrienne: | Sorry, Janyce. I was just curious. What kind of savings are we looking at? |
| Attilio: | We're going to ask the hard kind of questions. |
| Janyce: | Well, here's the deal. The building department charges building permit fees based on usage and the square footage of the building or area involved. So as you know, an ADU can be created in a multiplicity of ways. You can do an alteration to an existing unit. You can also decide, "Oh, I'm not going to alter, I can add." You could convert an existing rec room. So it could be something that's attached from the house but gets a changed use. Or it could be an area of the house that gets a changed use. Or it could be a totally brand new structure. So I'm just quickly calculating, if a person were to go and say do an 800 square foot ADU, and it's a brand new, detached area, they would've been paying about $302 for a plan review fee and another $1500 for a building permit fee. There are other fees that come into play if you're on an area that has to kind of change the grading of your lot in order to accomplish the permitting and maybe put a retaining wall. So the 800 square feet was only for the ADU itself. There are such things as grading fees or grading permits, but if you didn't have to do any of that and you didn't have to build a retaining wall, which would add to it, then we're talking about a $1500 building permit fee, in the neighborhood of that. And the $302 plan review fee for the sake of round numbers. So right there is another $1800 saved off of the approximate $6000 in waste water fees. |
| Adrienne: | And how long is this waiver in effect for, Janyce? |
| Janyce: | That's what I was looking for, the fine print to see– |
| Attilio: | Another hard question by Adrienne! |
| Janyce: | Well, I wanted to give you accuracy. It is until June of 2018. |
| Adrienne: | Oh, great! |
| Janyce: | Two years. |
| Attilio: | Oh, and one last question, Janyce. What is Einstein's theory of relativity? |
| Janyce: | We're not going to do physics class today. |
| Adrienne: | (Laughter) |
| Attilio: | Let's not compete with Adrienne's hard questions over here. You know, it's casual conversation, stuff like this. But anyway, the bottom line, folks: I am not one of those people that likes to perform brain surgery on myself, and I certainly put this up in that category of difficult things I wouldn't want to do, DIY. So call our expert, Janyce. Janyce, thanks so much for calling in. |
| Adrienne: | And answering all the hard questions. |
| Janyce: | Thank you. Take care. |
| Attilio: | That's Janyce Myrland of Dream House Drafting. You can reach her at 206-7107. Tell her you heard her answers to our hard questions on the "Team Lally Real Estate Show". What's her website? |
| Adrienne: | You can check her out at dreamhousedrafting.com. |
| Attilio: | Alright, this is kind of like running a marathon. We're getting to our first water station, so we're going to take a break. |
| Adrienne: | That's right. |
| Attilio: | It's tiring doing all this talking. |
| Adrienne: | I need a water break. |
| Attilio: | Yeah. |
| Adrienne: | So stay with us. We have a special in-studio guest. |
| Attilio: | With information that's going to change your life forever. |
|   | [16:40] |
|   | (Music out) |
|   | (Commercial) |
|   | (Music in) |
|   | [18:30] |
| Adrienne: | Welcome back and thanks for listening to the "Team Lally Real Estate Show", home of the guaranteed sold program, or we'll buy it. I'm Adrienne. |
| Attilio: | And I'm Attilio. |
| Adrienne: | And if you have any questions, you can reach us at 799-9596 or check us out on the web at teamlally.com. |
| Attilio: | Hey, before we introduce our guest, there was something I wanted to mention earlier and now I remembered. We had Duke on talking about people making sure that their insurance is… they have the proper coverage. Who do we recommend that they have their insurance reviewed by? |
| Adrienne: | That would be Bradley Maruyama with Allstate Insurance. |
| Attilio: | Yeah, give his team a call at 591-8016. It wouldn't hurt at all for him to at least take a look at all your insurance and review it, and give you some advice. |
| Adrienne: | Yes, he does free insurance reviews all the time. |
| Attilio: | Cause I'm telling you, you know everybody. They just get out their insurance forms every week and they review them. |
| Adrienne: | Because it's exciting reading material.   |
| Attilio: | You know I'm like, I'm not going to catch up on the latest episode of "Lost", I'm going to look at my insurance papers tonight. No, nobody does that. |
| Adrienne: | Well, especially because "Lost" is no longer… |
| Attilio: | That's how dated I am with my… |
| Adrienne: | (Chuckles) With your TV. |
| Attilio: | You know, I catch up with everything on Netflix. I don't even watch it real time. Or Hulu. I Hulu it. |
| Adrienne: | You're so efficient. |
| Attilio: | Mmhmm. |
| Adrienne: | Alright, so our guest today, our in-studio guest. |
| Attilio: | Wait, wait, wait. I want to talk to you about my latest episode of "Eight Is Enough" that I watched last night. |
| Adrienne: | No, you don't. |
| Attilio: | You don't even know what is "Eight Is Enough". |
| Adrienne: | I don't. |
| Attilio: | It was right after "Happy Days". |
| Adrienne: | I know "Happy Days". |
| Attilio: | Get back to our guests. People want to listen to some serious information here. |
| Adrienne: | Serious information. Well, I don't know about if this is going to be serious information. This is actually going to be very helpful information, especially if you have investment properties, or are interested in commercial real estate. |
| Attilio: | And the name–see, you get to say the name of our guest. What's his name? |
| Adrienne: | Anthony Provenzano. |
| Attilio: | Provenzano. |
| Anthony: | Hey. |
|   | (Laughter) |
| Adrienne: | We were practicing. |
| Attilio: | Alright, so here's his job title: Senior Vice President, Sofos Realty Corporation. And since joining Sofos Realty–I'll just read the abbreviated one–in 2010, Anthony has consistently been in the top performers and recognized as a CoStar power broker in 2014 and 2015. He is a team member on the Hunt Properties' Kalaeloa project, helping with repositioning approximately $24 million worth of commercial mixed-use buildings. |
| Adrienne: | He just recently got his broker's license as well. |
| Attilio: | Yes. |
| Adrienne: | Congratulations. |
| Anthony: | Thank you. |
| Attilio: | And you're the incoming president for the local chapter of the CCIM. |
| Adrienne: | Well, that's a lot of letters. That's four letters. What is that? What is CCIM? |
| Attilio: | Yeah. Anthony, welcome to the show. |
| Anthony: | Hi. Thank you, thank you for having me. Glad to be here. |
| Attilio: | Let's start off with that one. Softball question: What's that acronym stand for? |
| Anthony: | CCIM stands for Certified Commercial Investment Member. |
| Attilio: | Wow. |
| Adrienne: | What is that, though? I've heard that it's really kind of a difficult designation to complete. |
| Attilio: | Yeah, you know–here's a quick one. How much does it cost, how much would you have to invest as a real estate professional to get this designation? |
| Anthony: | Total? |
| Attilio: | Yeah. |
| Anthony: | So there's a series of four classes that you have to take, depending if you're a local member or not a member. |
| Attilio: | Go worst case scenario. |
| Anthony: | Worst case scenario, $6000 for just the classes alone. |
| Attilio: | Holy cow. That means you're serious if you have that designation. |
| Adrienne: | And then how long are the classes? Each class. |
| Anthony: | Each class is about a week in class here, locally. There are four days from 8 to 4, and we fly out instructors from the mainland. Most of them are commercial real estate brokers or have done commercial deals in the past. |
| Attilio: | Alright, before we get too deep into the conversation, we've got to go local style. Our listeners, I mean we're in Hawaii, people they like to know about you. You could be a valedictorian graduated from Harvard, they're like, "Wow, that's cool." Then here's the more important question. What is it, Adrienne? |
| Adrienne: | What high school did you go to? (Laughter) |
| Anthony: | I stayed here. I went to Kalani and then the Shidler College of Business. |
| Attilio: | Oh, right on. Okay. And then, so take us through the history of Anthony. What made you decide to get into commercial real estate? |
| Anthony: | What made me decide to get into commercial real estate… |
| Attilio: | How did that happen? |
| Anthony: | Well, I went to the Shidler College of Business, like I just said. And I studied finance with a real estate focus, so I figured out in college that I wanted to go into it. As you guys know, we discussed the other day that the majority of the wealth is build by real estates. So I knew that I wanted to go into that early on in college. |
| Attilio: | Okay. |
| Adrienne: | Good thing you had to hold all that finance background, because I heard that CCIM designation is a lot of calculations, and math, and having a full understanding of how numbers and finance work. |
| Attilio: | Yeah. I think of it as, when you're in commercial real estate, the CCIM designation, you're getting into what we call the "unemotional aspect" of real estate. Which is purely taking a look at the numbers, and making intelligent decisions on whether to invest or not, to sell, buy, hold, and all that good stuff. |
| Adrienne: | Mmhmm. |
| Attilio: | Alright, so let's talk about you becoming the incoming President. Did you hold signs on the side of the road? |
|   | (Laughter) |
| Attilio: | During the election season? How did that work? |
| Anthony: | I mean, I got my designation in 2014, and I essentially worked my way through the ranks on the executive board. The Secretary Treasurer–so I was Treasurer, worked my way up. I'm Vice President now, and I will be President next year. |
| Attilio: | So you have to put some time in it. It wasn't like where they make a row of people and like, "Who wants to be the President?" And then everybody else steps back and you didn't move. It wasn't like one of those scenarios. This took some serious time and effort on your part to get in this position. Congratulations. Our hats are off to you. Everybody thinks of real estate like the stuff they see on the reality TV, where everybody's getting these million dollar listings and having people driving around in Escalades. And they look like metrosexuals. You know, that's not true. Everything except for the metrosexual part. We all look like metrosexuals in real estate. |
| Adrienne: | So Anthony, with the CCIM local chapter, what are some of the goals that you guys have for this upcoming year? |
| Anthony: | Some of our events? |
| Adrienne: | Your events, your goals. I know that you want to bring in more members and create more opportunities for people to take. |
| Attilio: | You know, it sounds like a mission statement. If you guys had a mission statement, what would it be for your organization? |
| Anthony: | Well, we'd like to have more of a presence, and let people know and understand what a CCIM is. |
| Attilio: | Okay. |
| Adrienne: | Mmhmm. |
| Anthony: | And– |
| Attilio: | Educating the public. |
| Anthony: | Educating the public, adding value to our clients or people that we work with, so they know who we are. |
| Attilio: | You know, that is a designation with some meat. Because I think the average consumers, they did a survey, I think something like 80% of consumers don't know what these designations mean. But I think more importantly, there's going to be a high probability you might be getting a referral from somebody that's in the industry, another residential realtor. And now you're giving them something to look for. If I'm googling "commercial realtor", I might want to add in "CCIM" to the search bar. |
| Anthony: | Absolutely. CCIM designation is equivalent to–they call it the PhD. of commercial real estate. |
| Attilio: | Gotcha. |
| Adrienne: | Now, when we were talking the other day, you said that it was a very long test. This six hours– |
| Attilio: | Tell us about it. |
| Adrienne: | Yeah, tell us about–how did– |
| Attilio: | I think the guys on S. S. Minnow, they got lost quicker, 'cause they were only on a three hour tour. |
| Adrienne: | (Laughter) |
| Attilio: | How long is this test? |
| Anthony: | I think we had six hours. |
| Attilio: | Six–Gilligan's Island, they could've been lost twice by the time you finished this test. |
|   | (Laughter) |
| Attilio: | Six hours! |
| Adrienne: | That takes some commitment. And what–70% pass rate. And you said one problem could take you like an hour just to go through and do an analysis on it. |
| Anthony: | They're like long word math problems. |
| Attilio: | Wow. |
| Anthony: | So one will lead into five other questions after that. So if you get the initial one wrong, the following might be wrong also. |
| Attilio: | Okay. Let's talk about these events that you guys have coming up. They're for the benefit of the public, they're for the benefit of the members. Let's see here. Okay, we'll go in chronological order from now, projecting forward a year out. What's the next event coming up? |
| Anthony: | So the next event coming up, we have a general membership meeting with Christine Camp from Avalon Development. |
| Attilio: | I know Christine. |
| Anthony: | Yeah, she'll be talking. We normally get about a hundred people to those events. So that'll be exciting. It's going to be in the Ward area. |
| Adrienne: | Is that open to the public? |
| Anthony: | Absolutely. |
| Adrienne: | Anybody can come and attend? |
| Anthony: | Yep. |
| Attilio: | Christine, if you don't know who she is, she was on the cover of Pacific Business News' multi-page write-up. She was born with no legs, could not even speak English, and now she's running her own development company, and she has legs. |
| Adrienne: | Wow. |
| Attilio: | I mean, you read her story. I think she moved out when she was 16. It's a total rags to riches story with a local lady right here in Oahu. I highly recommend everybody–you know what, we're gunning for her to be one of the guests on our show. |
| Adrienne: | Okay. Christine, if you're listening, there's your invitation. We'll be reaching out. |
| Attilio: | What is she going to be talking about? |
| Anthony: | Development, things that she has going on for the residential real estate side. She has 900 units. |
| Attilio: | Oh. |
| Adrienne: | Wow. |
| Anthony: | And a very inspirational story. |
| Attilio: | I think the main takeaway I got from her story was that it's a very male-dominated industry, and it's very challenging for a female to reach the heights that she has in that male-dominated industry. So good job. |
| Adrienne: | So that's coming up in the next month? |
| Anthony: | That is going to be in October. |
| Adrienne: | October, okay. |
| Attilio: | In October? And what's your guys' website, so people can track all of this? |
| Anthony: | Our local website is ccimhawaii dot org (ccimhawaii.org). |
| Attilio: | Okay, perfect. And what's the next event? |
| Anthony: | The next event is for all those realtors out there that haven't finished their CE credit. |
| Attilio: | Okay. |
| Adrienne: | Ooh. |
| Anthony: | We have an Essentials of Commercial Leases. |
| Adrienne: | Okay. |
| Anthony: | And that is September 30th. |
| Attilio: | And that one's, you get CE–how many hours of CE, do you know? |
| Anthony: | I believe it's three? Three state credits, yes. |
| Attilio: | Okay. More than an hour, but less than ten. |
| Adrienne: | Nice. |
| Attilio: | Okay. |
|   | (Laughter) |
| Attilio: | They'll get CE credits for that. And then what else is coming up? |
| Anthony: | Well the next big event, that you guys are actually speaking at, will be the Forecast. That's in February of 2017 at the Hawaii Convention Center. It is open to the public. And we'll have a panel of speakers all speaking on their specific knowledge. |
| Adrienne: | Mmhmm. |
| Anthony: | You guys will be talking about the residential real estate. We'll have Howard Dicus as the moderator. Office, retail, investment, and industrial all speaking on their behalf. |
| Attilio: | Anybody on tourism? Or that was just last year? |
| Anthony: | That was just last year. |
| Attilio: | Okay, and I see–and I don't want to quote the prices, because I'm looking at last year's one, but what are the prices for the premium and the standard table? |
| Anthony: | So a premium table–these are tables of 10, is $700. And the standard table of 10 is $600. |
| Attilio: | Okay, and then how do you get–I see you've got sponsors on the page. Do they come with the premium, or you've got to write another check? |
| Anthony: | Some of them, we have annual sponsorships. |
| Attilio: | Gotcha. |
| Adrienne: | Are you looking for more sponsors for this event? |
| Anthony: | Absolutely. We're always looking for sponsors. |
| Attilio: | So I see here, premium tables: preferred seating and a company logo displayed during this sponsor loop. Standard tables: reserved seat–oh, reserved seat. Okay, so they get a table too. |
| Anthony: | Mmhmm. |
| Attilio: | Alright. |
| Adrienne: | Alright, and then you have one more event, which is the CCIM 101, right? That's the course that you recommend everybody take. |
| Anthony: | Yeah, so I was recommending that everybody that's interested in investing in commercial real estate take this class. It's our 101 class, it's the first class. It'll be offered in around the first week of March. |
| Attilio: | Okay. |
| Anthony: | The price for that is $1145 if you're a local member. Local membership dues are $200. |
| Adrienne: | Oh wow. |
| Anthony: | If you're not a member, it's $1650. So sign up for a membership, save money. |
| Attilio: | Helps you save money. |
| Adrienne: | Yeah. |
| Anthony: | Yep. |
| Adrienne: | That's the smart way to do it. |
| Attilio: | Smart way to do it, and then we're– |
| Adrienne: | I think you were going to give away some kind of a scholarship on that for our listeners. |
| Anthony: | Yeah, for you guys having us on this show, we'd like to offer your listeners a $500 scholarship. If they complete the class, all they have to do is apply, say that they heard us on your show, and we'll give one away. |
| Attilio: | Give one away. $500. |
| Adrienne: | That is a very generous offer. Thank you. Thank you so much for offering that. |
| Anthony: | You're welcome. |
| Adrienne: | I think that'll help to spread the word about this course, CCIM. Now you said that it's open for residential realtors, commercial brokers, and even if you're an investor. You don't even necessarily need to be a licensed agent. You just want to know more about the numbers. |
| Anthony: | Right, and we have all kinds of people that take the class. Bankers, appraisers, residential realtors, owners, people that even want to learn how, as a business owner, what they should be looking for in their leases. |
| Attilio: | Now you're coming solo, 'cause nobody likes you and you don't have friends. |
|   | (Laughter) |
| Attilio: | So you have the chapter member price. What's the difference if you're coming as an individual–solo? |
| Anthony: | Are you talking about the Forecast? |
| Attilio: | Yeah, for the Forecast. |
| Anthony: | For the Forecast, if you're an individual chapter member, it's $55. And for a non-member, it's $65. |
| Attilio: | So that's another benefit of the membership–paying for the membership, take the class, get a break on a seat at this event. And hey folks, ABC–Always Be Curious. |
| Adrienne: | Mmhmm. |
| Attilio: | One of the big facets of our success as a real estate team is that we as leaders, we as our team members, and we encourage it as a part of our culture is to–what is ABC again? |
| Adrienne: | Always be curious. |
| Attilio: | Always be curious. |
| Adrienne: | Yes, I was listening. |
| Attilio: | It's not the Glengarry Glen Ross "Always be closing! Coffee is for closers!" No, it's not like that, but to always be in a state of learning, especially with our industry. So, coming from the book that we read, "Four Disciplines of Execution", it talks about always taking a look at lead indicators. And I think going to a Forecast–so it's going to be a forecast– |
| Adrienne: | That would be helpful. |
| Attilio: | This one was Forecast 2017, so that one's going to be everybody coming in with their best opinions, data regarding what's going to happen in the real estate industry come 2017. |
| Adrienne: | Exactly. |
| Attilio: | Alright. Alright, tell us about any current projects that you're working on right now. |
| Anthony: | As you mentioned earlier, the Hunt Development. They are–I think they just announced they're renovating the Mayor Wright housing. |
| Attilio: | Wow. |
| Anthony: | So it's the same group. They have about 560 acres in out in Kalaeloa. |
| Attilio: | Oh wow. |
| Anthony: | That we're leasing, doing sales for certain projects. They're working on some future developments. They had an affordable housing that just came up last year–or the beginning of this year. |
| Attilio: | Was that the one–I think they were originally dorms for the military. They're right there on that back road, Roosevelt. |
| Anthony: | Yes, correct. |
| Attilio: | And I see them. Nice. |
| Adrienne: | Yeah, I'm so glad to see those all fixed up. Because I mean, it was an eyesore driving by it every day on my way to the office. |
| Attilio: | All that graffiti. |
| Adrienne: | So so much better. |
| Attilio: | Yeah. So and then I see–just to give people an idea of where that is, that's like the old way that people used to go to Costco and who lived in Kapolei, but now we go down Kama'aha and Kapolei Parkway, the main drag. But I mean, other businesses that are there–hey, you know, our team, we're fun. What we're going to do? |
| Adrienne: | We're going to go over to–I think it's called K1 Raceway now? |
| Attilio: | Yep. |
| Adrienne: | Some of our agents want a rematch. |
| Attilio: | Rematch with go-karts. |
| Adrienne: | Cause I was calling them grandma drivers. They want a rematch. |
| Attilio: | That business is in the area we're talking about? |
| Anthony: | Absolutely. |
| Attilio: | Okay. For the redevelopment. So, super awesome. What other–as far as this CCIM designation. Let's talk more about that–go ahead. |
| Adrienne: | I would say, or membership. I mean, it sounds like you really want to grow the membership, and help to support your members in gaining that designation. |
| Attilio: | I don't know if you would know off the top of your head, the hard Adrienne kind of question–but do you know what your membership number is right now? Enrollment? Roughly? |
| Anthony: | We have about 170, 180 local members here in the state of Hawaii. It's an international organization. |
| Attilio: | Okay. You don't have to have the designation, you just pay the dues and participate? |
| Anthony: | Yeah. I mean, if you take one class or you–we even have these Lunch and Learns, like where you guys do the Tip of the Day? |
| Attilio: | Yeah. |
| Anthony: | We have a Lunch and Learn where we'll provide lunch. It's $20. You come and sit in your lunch hour, we'll give you a Subway sandwich, and you get to listen to somebody talk about their specialty and what they do. |
| Attilio: | Yeah. |
| Adrienne: | Wow, that's a great benefit. |
| Attilio: | Probably a great networking opportunity too. |
| Adrienne: | Absolutely. |
| Attilio: | Alright, so I see some of these sponsors from last year, just to give people an idea for this Forecast 2017–Kamehameha Schools, DR Horton, American Carpet One, TEG, Howard Hughes. I don't know if they're going to be the same sponsors. It would be nice. They can come on and write a check again–they usually do, right? |
| Adrienne: | (Chuckles) |
| Anthony: | Yeah. We normally get the same sponsors. |
| Attilio: | Any big ones that weren't there last year that'll be there this year? Any heads up on that yet? |
| Anthony: | We haven't started yet, but we have– |
| Adrienne: | You have plenty of time. |
| Anthony: | Yeah. |
| Attilio: | We're going to be optimistic. You big-time listeners out there, you're the head of some big, huge multi-national corporation and you want to go write a check to help support this event, they're saving a spot for you. |
| Adrienne: | That's right. |
| Attilio: | Alright, what other questions we got for Anthony? |
| Adrienne: | Oh. Before we take our next break, I'd like just to quickly go through–you know, what exactly does it take to become a CCIM? Because the consumers, they need to understand what's the difference. |
| Attilio: | Yeah, what does that mean when they see a commercial realtor that has that designation? |
| Adrienne: | Mmhmm. |
| Anthony: | So the designation includes four core classes. The first one is the Financial Analysis that we talked about, that I think most people should at least take, so they understand that financial analysis of investment. Another one is Market Analysis. The third one is User Analysis. And then the fourth one is Investment Analysis for Commercial Real Estate. |
| Attilio: | Gotcha. |
| Anthony: | So those are the four classes. We have a negotiations class and an ethics class. |
| Adrienne: | Okay. |
| Anthony: | And then you have to do the Portfolio Qualifying Experience. It's three qualifying activities totaling $30 million or more. Exactly 10 for $10 million or more. Or 20 with no dollar value, but they have to be commercial real estate deals. But on the residential side, as you guys know, five unit, multi-tenant apartment buildings– |
| Adrienne: | Would qualify. |
| Anthony: | Would qualify. It's an investment. |
| Attilio: | Alright, so here's some stats. I like infographics. They're easy. CCIM–so people with this designation averaged 42% more transactions annually than the typical brokerage specialist. |
| Adrienne: | It's because they are doing the ABCs. |
| Attilio: | The Always Be Curious? |
| Adrienne: | Well they're learning. I mean, that's a pretty solid designation. You know, Anthony was mentioning that you can't do it all in one year. It's just too much information to be able to process it, and also still work, and complete the commercial deals that you need to do to get that designation. |
| Attilio: | 67% of the designees hold the title of "owner", "partner", "principal", "president", "vice president", or "broker". And last one, 95% of the members said that the CCIM designation is one of the most important ones in their career. So a lot of motivation, a lot of stats here, a lot of reasons why– |
| Adrienne: | You should go check it out. |
| Attilio: | Either take a class, or go for the whole big thing, and complete and get this designation. Okay. |
| Adrienne: | Alright, well, Anthony, was there anything more you wanted to leave our listeners with? Or did we pretty well cover…? |
| Anthony: | I think we went over everything. Just please go on ccimhawaii dot org (ccimhawaii.org). Look up our events coming up. Please come to the Forecast and see Team Lally speak. That'll be a great event. |
| Attilio: | So if they want to go and reserve their table, because they don't want to miss out–it's kind of like Journey tickets, "You've got to go early if you want the good seats"–they go to your guys' website. What's the website again? |
| Anthony: | ccimhawaii dot org (ccimhawaii.org). |
| Attilio: | Alright. |
| Adrienne: | Alright. Thank you so much Anthony, for joining us today. |
| Anthony: | Thanks for having me. |
| Adrienne: | Okay, so we're going to take a real short break. But when we come back, we have what? |
| Attilio: | Pearls of wisdom, coming soon properties, and open houses. |
| Adrienne: | That's right. So stay with us. |
| Attilio: | Stay with us. |
|   | [39:50] |
|   | (Music out) |
|   | (Commercials) |
|   | (Music in) |
|   | [44:45] |
| Adrienne: | Welcome back and thank you thanks for listening to the "Team Lally Real Estate Show", home of the guaranteed sold program, or we'll buy it. I'm Adrienne. |
| Attilio: | And I'm Attilio. |
| Adrienne: | And if you have any questions, give us a call at 799-9596, or check us out online at teamlally dot com (teamlally.com). |
| Attilio: | Hey everybody, we need help. Adrienne, what kind of help do we need? |
| Adrienne: | Well, you know what? We're always looking for great team members. |
| Attilio: | Okay. And don't contact us if you're a mediocre producer. |
| Adrienne: | If you're super uptight, sensitive, and your feelings get hurt easily, do not call us. |
| Attilio: | You must be able to prove you have a personality to be a superstar. |
| Adrienne: | You know what the crazy thing is? We have an $80k guarantee. |
| Attilio: | Whoa, we had to make an adjustment for inflation. |
| Adrienne: | (Laughter) |
| Attilio: | It was $60k, now it's $80k. $80k guarantee? What the hell? |
| Adrienne: | (Laughter) |
| Attilio: | Who authorized this? |
| Adrienne: | I did. |
| Attilio: | Oh we did. |
| Adrienne: | Yes. |
| Attilio: | Okay. |
| Adrienne: | Okay, so if you do everything that we train you to do, and you don't make $80 thousand in your first year– |
| Attilio: | What!? |
| Adrienne: | We'll write you a check for the difference.   |
| Attilio: | That is just crazy. Okay, so that's awesome. Here it is, folks. You need to be self-motivated, confident, well-spoken, driven, energetic, just like–you're just walking around with your head ready to explode. And if interested in joining a fast and fun-paced company… |
| Adrienne: | Just go to jointeamlally dot com. That's jointeamlally dot com (jointeamlally.com). |
| Attilio: | Check it out. We got Career Nights coming up, we got classes coming up. If anytime you want to schedule a Coffee Talk, we'll do that. |
| Adrienne: | Yes. Okay, so speaking of Coffee Talk, we have Abby on a line to talk about her open house. |
| Attilio: | Hi, Abby. Are you there? |
| Abby: | Yes! Hi, hi! I'm here. |
| Attilio: | Alright, Abby. Tell us about your open. |
| Abby: | Okay, guys. So first night open house, first showings. That means nobody has seen this beautiful house. It's sitting in Second City in Kapolei in a nice, beautiful subdivision. Please watch out for my open house. One good thing, or great thing about this house is that it has its own 28 PD panels, and of course no maintenance fees. Just association fees under $50, so come down, see me. I'll be there from 2:00 to 5:00.   |
| Adrienne: | And this was in Kapolei Keikuilani, right? |
| Abby: | Yes, correct. And the address is 91-203 Kekepania Place. So come down and see me, I'll be there. |
| Attilio: | Alright, Abby, you know I got to do this with you. |
| Adrienne: | Oh no. |
| Attilio: | Can you say, "Jeans Warehouse?" |
| Abby: | Jeans Warehouse! |
| Attilio: | Okay, thank you. |
|   | (Laughter) |
| Abby: | Have a good day, guys! |
| Attilio: | Thanks, Abby. |
| Abby: | I'll see you guys tomorrow! |
| Attilio: | Alright. |
| Adrienne: | Thanks, Abby. |
| Abby: | Bye-bye. |
| Attilio: | Bye. |
| Adrienne: | Okay, so next we have Kapuno with his open house this Sunday. |
| Attilio: | Alright, Kapuno. Tell us about your open! |
| Kapuno: | So Sunday, I'm going to be doing the grand open house in the desirable coconut grove in Kailua from 2 to 5 PM. So it's perfect for your do-it-yourself buyer. |
| Adrienne: | Mmhmm. |
| Kapuno: | It's 5000 square feet. And you can make this into a dream home in Kailua. Come and check it out. 2 to 5 PM. |
| Attilio: | Alright. Kapuno, he's a hungry realtor. |
| Adrienne: | So this one has lots of opportunities. |
| Kapuno: | Yeah. |
| Attilio: | Alright. |
| Adrienne: | Okay, thanks Kapuno. |
| Attilio: | Thank you, Kapuno. |
| Attilio: | Next we've got up, Michael. Hey, Michael, are you there? |
| Michael: | I am! |
| Attilio: | Are you still stuck in traffic, or you made it out? |
|   | (Laughter) |
| Michael: | I made it out. |
| Attilio: | Alright. |
| Michael: | And come visit me this Sunday from 2 to 5 at 87-2173 Pakeke Street, #63. Look for my sign. It's a little bit of a maze in there, but definitely look for my sign. And this is your chance, because it's recently back on the market. A four bedroom, two and a half bath home out in beautiful Maili area. |
| Attilio: | Thank you for that. The correct Hawaiian pronunciation: MAI-I-LI. Everybody says MY-LI. It's MAI-I-LI. |
| Adrienne: | And Michael, you're going to have lots of signs, right? You said that it's kind of a maze back there. |
| Michael: | It is a little bit of a maze, so definitely check out my signs, my flag, my waving arms. I will be there. |
| Attilio: | Forget about Dole Plantation, going through their maze. Just go to his open house. |
| Adrienne: | In Maiili. |
| Attilio: | It's free. It's a free maze. |
| Michael: | Always, guys, make sure that you follow the right rules, get pre-approved. And if you need some more education on the home-buying process, please let us know. Because it's never too early to get educated. Wouldn't you agree, guys? |
| Attilio: | Yeah, and you know why? |
| Adrienne: | We agree. A hundred percent. |
| Attilio: | In a weak moment, we wouldn't want you stuck with a bad realtor. |
| Michael: | Amen. Yes. Absolutely. |
| Attilio: | Come get educated. Alright, thank you, Michael! |
| Michael: | Aloha, guys! |
| Adrienne: | Okay, now we have Ray with his "coming soons". |
| Attilio: | Ray, are you there? |
| Ray: | I am here. |
| Attilio: | Tell us about your coming soon property. |
| Ray: | Coming soon property is Hawaiian Homelands Property in Waianae. It's a recently remodeled, updated, painting, new flooring throughout. Been through the works. Just getting ready to put it on the market and have a grand open coming up next week. Single family home, four bedrooms, on I think 7000 square feet lot. |
| Adrienne: | So that's when you've got to be 50% Hawaiian? Or on the list? |
| Ray: | There is a waiting list, more than likely. So I'm sure the people who are on that list know, will be there waiting for it. So I'm sure we'll have a lot of activity for that property, but obviously a great way to buy a home. |
| Attilio: | Well, I can speak first that I live on Hawaiian homes, and I think I was on the list for 25 years. |
| Adrienne: | Oh, wow. |
| Attilio: | I am now 79 years old. |
|   | (Laughter) |
| Attilio: | Finally got my house. Proud to be Hawaiian. I think statistically, there was something like 10 thousand people on this list. There is not 10 thousand homes out there available for the people with 50% or more Hawaiian. So this is like going to that nightclub, and the bouncer says, "You can cut the line and come over here behind the velvet rope. We're going to put you in the VIP section, which means you can go and write an offer on this Hawaiian home." |
| Ray: | Yep. |
| Attilio: | Adrienne's like hurrying me. No hurry, I could talk slower now. |
| Adrienne: | No, no. Brooks. |
| Attilio: | Oh, Brooks. I thought you wanted me to talk faster. (Speaks really fast) Okay, we're going to have Brooks coming on the line. He's going to talk about his coming soon property. |
| Adrienne: | Alright, thanks, Ray. |
| Attilio: | Thank you, Ray. |
| Adrienne: | Alright, so now we have Brooks on. |
| Attilio: | Brooks, are you there? |
| Adrienne: | With his coming soon. |
| Brooks: | I am here. Hi! How are you guys? |
| Attilio: | Good. Tell us about your property. |
| Brooks: | The home that I'm going to highlight today is in Spinnaker in Ocean Pointe, and I just love this home. When I was there with the owners, I couldn't believe how nicely it is kept. It looks like nobody has lived there, and they've been there for two years. It is so well maintained. It's got luxury, and relaxation, and prestige written all over it. It's right around the high fours. For a starter home, for a small family and a couple, it's just awesome. This is an excellent unit. For our buyers out there who are listening, and are in the first-time home buyer situation, you've got to come over to this home and take a look at it. It is just fantastic. However, it's not ready for a couple more weeks. But I'm going to highlight it again next week. And how much time do I have? |
| Attilio: | You've got another one? Give it to us! |
| Brooks: | Okay, good. You know, Gentry did a thing a couple years ago. Well actually, it's been several years now–where they built what they call like a hint of San Francisco. And they called it Lombard Way for that very reason. And there's this very nice, really cool development in Ewa Beach called Lombard Way. It's on Koapaka. This unit is fantastic. It's the same thing. Under $500 thousand, great for starter families, great for investors. It's just awesome. I'd like to encourage our buyers to get over there and see it. |
| Attilio: | Thanks, Brooks! |
| Adrienne: | Thank you, Brooks. Alright, well thank you for listening, and thank you to our sponsors. |
| Attilio: | Gabe Amey and Jim Owens of Hawaii VA Loans. |
| Adrienne: | Bradley Maruyama of Allstate Insurance. |
| Attilio: | Jody Tanga and Derek Tanga of Pacific Rim Mortgage. |
| Adrienne: | Nathan Baker of Pillar to Post. |
| Attilio: | Ben and Tony Mamuad of AAA Roofers. |
| Adrienne: | Janyce Myrland of Dream House Drafting. |
| Attilio: | John Speed of Kilauea Pest Control. |
| Adrienne: | Duke Kimhan of Hawaii Pacific Property Management. |
| Attilio: | If you want to get ahold of any of our sponsors, just go to teamlally dot com (teamlally.com). |
| Adrienne: | We also want to give a big thank you to our producer-ing guest, Leah in the studio today. |
| Attilio: | Yee-hoo! |
| Adrienne: | Make sure to tune in next week. We'll have an awesome guest talking about something that'll change your life– |
| Attilio: | Forever. This is the "Team Lally Real Estate Show". Home of the guaranteed– |
| Adrienne & Attilio: | Sold program! |
| Adrienne: | If we can't sell your home at the agreed upon price and time frame, we'll have it bought for cash. |
| Adrienne & Attilio: | Thanks & aloha! |