Team Lally has been doing AMAZING things to help both buyers and sellers throughout 2020. This may have been the toughest task yet. Selling an over two million dollar home, SITE-UNSEEN!
The Story Behind Our Clients
It's not everyday a brokerage gets to help both the buyer and the seller on a single glorious property. 
Homeownership was always on Makana Kane's bucket list. But she gave herself a timeline for
purchasing real estate — her mid 30s — that would give her enough time to work hard and
save in order to reach her goal. But opportunity has a beautiful way of speeding up plans, and
instead, thanks to Makana's own financial literacy and passion for education around home
ownership, she and her boyfriend, XX made it all happen in her 20s — years before even hitting
the big three oh.
Ready To Find Out How Much Your Home Is Worth?
With over 25 year of Real Estate experience we'll give the most accurate home evaluation in the market today.
Making Dreams Come True
"I accelerated my timeline by about 10 years," said Makana. "After graduating from college,
getting my first job and holding my first job, my financial goal was to buy a home before I turned
35. Well, I just turned 26! Buying my own home and advancing my timeline was huge for me
personally, but also for my family."
So how did Makana shave a decade off her goal? She got organized with her finances.
"I had a heart to heart conversation with myself and my past trauma, the awkward weird
relationship I had with money," said Makana.
She had to dig deep and ask herself: What were the things that caused her to hold back with
money? What caused her to feel weird or uncomfortable when talking about money?
"As a young Hawaiian who comes from a family who doesn't have money to begin with, I really
had to be very honest and clear with myself," said Makana. "My biggest hurdle was my lack of
financial literacy because of my previous relationship with money. The big ticket number at the
listing price can be really daunting, but once you really talk to an agent or talk to a lender, it can
be much more affordable than we actually realize."
You Can Do It Too
Because Makana had trust in the brokers that she talked to at Team Lally, and she trusted her
agent, Adrienne Lally, she was able to feel safe and good about speeding up the timeline while
her busy boyfriend worked through his intense PhD program.
"I was able to present him the numbers and show him that we can do this!" said Makana. "We
have the money and we have the support from our agents, from our families now that we are all
in a better financial place. This also allowed him to come into his own trust in me and others.
Building Together
We made these decisions together, and that's a great stepping stone in our relationship."
Once she wrapped her head around all of the financials, Makana saw the real work to dig into
was communication, trust and clarity. What was most surprising to the couple about the
homebuying process? All the documents they had to sign!
"They need everything from you! Your bank statements, other people's bank statements. It was
a lot to feel comfortable sharing!"
Follow Us On Social Media
Looking For A Home in Hawaii?
This Guy Validates the Savings Abundance Reaped When Extending A Home Warranty When Team...
read more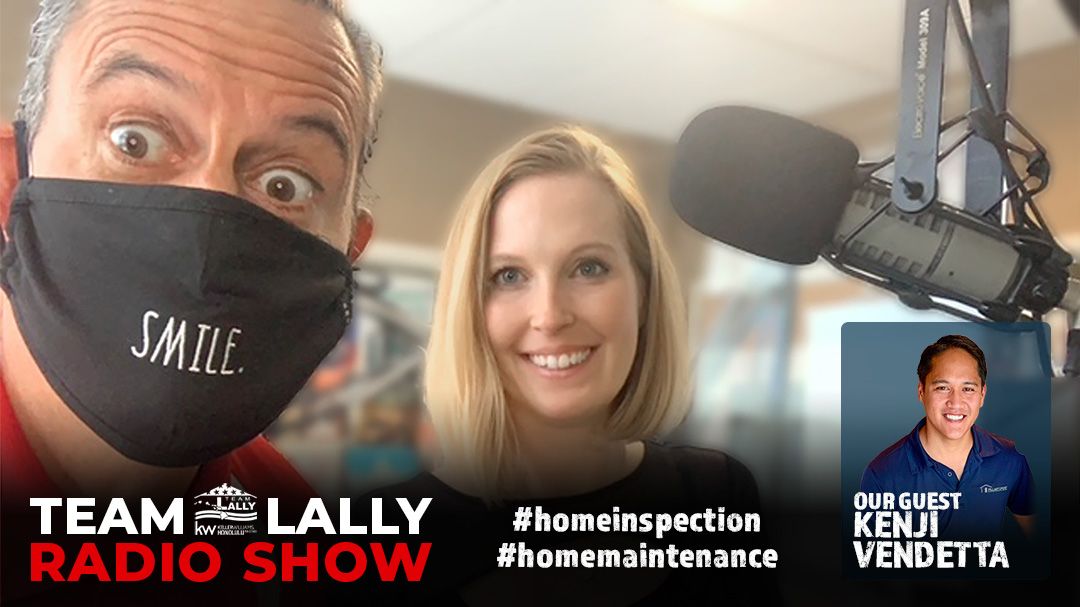 The Team Lally Real Estate Radio Show interviews Kenji Vendetta, Lead Inspector for...
read more